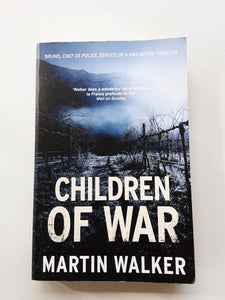 Children Of War, By Martin Walker
Children Of War, By Martin Walker
353 Pages
Bruno Courreges, chef de police in the French country town of St Denis, is busy with one case when another-far more serious pops up.  The mutilated body of an undercover French cop is found in the woods, a man who'd phoned  Bruno for help only hours before.
Meanwhile, a Muslim youth named Sami turns up at a French army base in Afghanistan hoping to get home to St Denis.  An old army comrade of Bruno's helps to smuggle Sami back to France, but the FBI aren't far behind him.  The an American woman appears in St Denis with a warrant for Sami's extradition.
Bruno must unravel these  multiple mysteries, amidst pressure from his bosses, and find his own way to protect his town, its people -and himself.